Product Name:

Ex-proof Disperser
Product detail: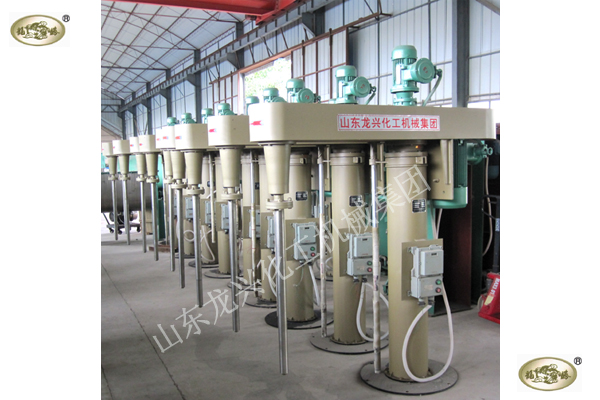 1.Working principles:
The serrated circular blade of the dispersion plate rotates at a high speed so that materials flip up and down intensly in the container, and are impacted and sheared by the blade . As a result, the aggregate is destroyed to rapid dispersion,homogeneous mixing,and fast dissolution.

The machine stirs,dissolves and disperses the liquid or liquid - solid materials at a high speed,to complete the process of solid-liquid dispersion, wetting, depolymerization, and stabilization.

The speed can be arbitrarily adjusted (electromagnetic speed control and frequency speed control), and the speed range is 80-1250 rev / min. The medium speed is used to stir and dissolve, and the high speed to disperse into homogenization. The main motor is the speed control motor.

2.Uses:
It is widely used to produce coatings, dyes, ink, pigments, papermaking, cosmetics, food, resin, adhesive, lotion,
medicine, oil, pesticides, daily chemical and other fields.

3.Performance characteristics:
(1)It makes the slurry into a scroll-like circulation, and produces a strong vortex,then the particles on the surface of the slurry fall into the bottom of the vortex spirally.
(2)Turbulent areas are formed at a distance of 2.5-5mm to the edge of the dispersion plate, then the slurry and particles are sheared and shocked strongly;
(3)With the upper and the lower beams formed outside the region , the slurry is fully cycled and flipped;
(4)The laminar area is formed beneath the dispersion plate, and different rates of slurries spread mutually;
(5)The 270-degree rotation of the body can better meet the needs of multi-purposes .It can be transformed to work from one cylinder to another in a very short time, which greatly increases the work efficiency.


4.Category :
There are mechanical lifts and hydraulic lifts. There are electromagnetic speed control motor, frequency control mortor (such as for water-based paint), and explosion-proof frequency control motor(such as for oil-based paint).


5.Notes:
Our company is able to undertake the non-standard customization according to the customer's specific requirements. (It needs the customers to provide the size of their drawings.)

6.Main technical parameters:
Type

GFJ2.2

GFJ4

GFJ5.5

GFJ7.5

GFH11

GFJ15

GFJ18.5

GFJ22

Main Motor Power (Kw)

2.2

4

5.5

7.5

11

15

18.5

22

Impeller Rotational Speed (rpm)

80~1250

Dispersion Plate Diameter(mm)

150~200

150~200

200~250

250~300

300

350

350

350~400

Stirring-axis Max Stroke (mm)

1000

Installation Height (mm)

3100

3100

3100

3100

3100

3200

3200

3200

Overall Dimensions (mm)

L

1500

1500

1500

1500

1500

2000

2000

2000

W

550

550

550

550

550

700

700

700

H

2100

2100

2100

2100

2100

2200

2200

2200

Weight (Kg)

600

640

710

730

830

930

1050

1070