Product Name:

Silicone Sealant Mixer
Product detail: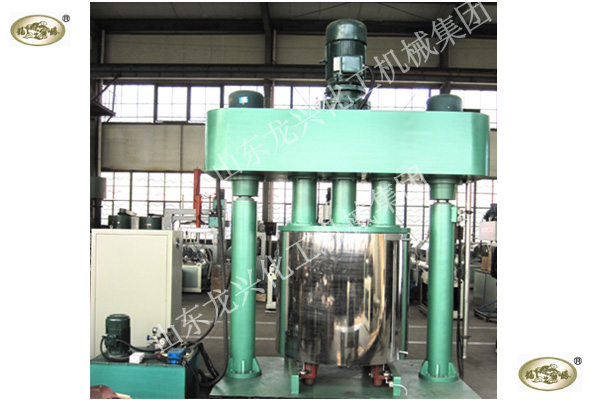 1.Descriptions:
The machine has the high-speed, low speed, mobile scraper,which can be used for mixing, cutting, dissolving, scraping the wall. A scraper on the planet carrier rotates and constantly scrapes the barrel wall.Because the barrel wall is finished by the large vertical lathe and is polished by the large-scale automatic polishing machine,the rotation of the scraper will completely scrape the material in the barrel wall,which will improving the mixing effetiency. The unique temperature detection device in the transmission shaft ensures that the material temperature error is less than +-1 Degree Centrigrade.
2.Uses:
(1) Energy: a variety of battery pulp material, paste material (lithium battery, nickel cadmium batteries, nickel hydrogen batteries, fuel cell, battery, etc.);
(2) Electronics: solder paste, ceramic slurry, magnetic materials, silicone ink, electronic adhesives, pvc plastic, electronic parts sealant, hot melt adhesives, various precious metal powder, paste;
(3) Chemical products: all kinds of sealants, adhesives (silicone sealant, polysulfide sealant, insulating glass sealant, waterproof sealant, structural sealant, anaerobic adhesive, stone glue, plastic mold, etc.), synthetic resin, rubber , ink, putty, abrasive (paste), wax products, synthetic rubber, synthetic resin, various kinds of powder materials, ceramic pigment;
(4) Medicine products: various kinds of soft cream, polymer gel (medical stickers, children stickers fever, cold fast paste, ice patch, eye patch), dental materials;
(5)Cosmetics, daily chemical products: moisturizer, lipstick, lotion, gel, mask, mascara, foundation, nail polish, toothpaste, soap.
(6) Food: all kinds of mushy, paste materials mixture, seasonings, jam, chocolate paste.
3.Notes:
(1) The device can be designed according to the user's specific requirements.
(2) Due to the rapid upgrading of technology, the right technical parameters are subject to the real product.
(3) If you have some problems,please call us,then our professional sales engineers will help you.
4.Main technical parameters:


Type

SXDHJ5L

SXDHJ 15L

SXDHJ 30L

SXDHJ 50L

SXDHJ 100L

Bucket Size

Ø280*180

Ø280*325

Ø400*325

Ø480*365

Ø550*550

Revolution Motor

1.5Kw

2.2Kw

3Kw

4Kw

5.5Kw

Revolution Speed

(frequency control)r/min

0-60

0-84

0-62

0-70

Rotation Speed

(frequency control)r/min

0-100

0-130

0-75

0-110

Dispersion speed (frequency control)

r / min

0-1430

0-1500

0-1500

0-1500

0-2000

Vacuum( Mpa)

<= - 0.098

Weight (kg)

300

2000

2000

3000

3500

Dimensions

(mm)

L

700

1700

2170

2300

1900

W

400

650

950

1080

1100

H

1700

1700

2080

2400

3960